HOW TO MINIMIZE PAIN DURING AESTHETIC TREATMENTS & IMPROVE YOUR RESULTS
WHAT IS SUB-Z
The Sub-Z is a cutting-edge device that provides a super chilling effect to the skin. It is designed to allow for cooling of the skin to provide comfort during medical aesthetic treatments. Sub-Z is unique when compared to other chilling devices since it can deliver cold enough air to completely numb the treatment area in less than 30 seconds. Therefore, Sub-Z gets cold enough to serve as a topical anesthetic for relief of pain and thermal injury during treatments.
Book Now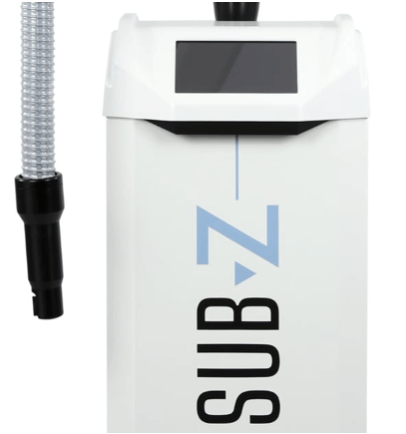 WHAT TREATMENTS SHOULD SUB-Z BE USED WITH?
This device can be used with wide range of aesthetic services including RF Microneedling, laser skin rejuvenation, C02 Laser, AcuPulse laser, laser skin resurfacing, chemical peels, injectables and more! If you fear discomfort and want to improve your overall treatment outcomes, upgrading your treatment session with the Sub-Z is a great choice.

Sub-Z Cryo technology allows for customization for each patient depending upon skin type and the treatment being performed. It can be adjusted for precise temperatures so that the skin be numbed but also not be frost bitten or damaged. The Sub-Z can be used alone or in combination with topical numbing creams. When undergoing laser treatment which delivers heat onto the surface of the skin (epidermis), it is important to keep the skin cool. Overheating the skin can result in rebound melasma (for those that already have melasma) and increased risk of hyperpigmentation. So, not only does this incredible technology help make your treatments more comfortable, it also improved your results.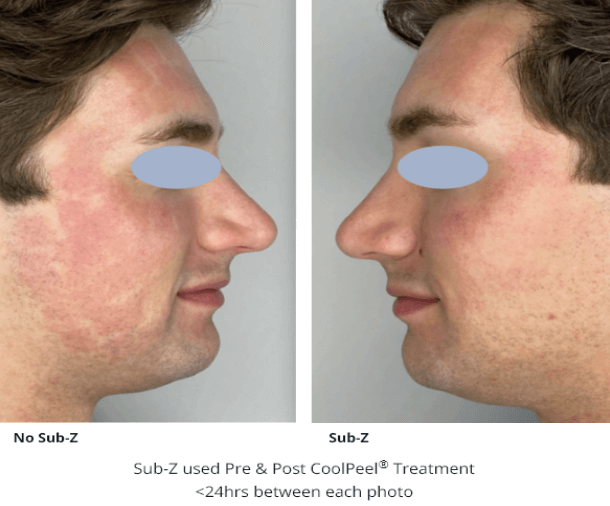 WHAT TO EXPECT
If you elect to upgrade your treatment to include the Sub-Z, or if we require it to be used to avoid thermal over-heating of the skin, you can expect to have two people in the treatment room with you. One person will be your treatment provider, the other will be responsible for running the Sub-Z and monitoring your skin's temperature. You fill feel a very cold air being applied to the treatment area. You will want to tell your Sub-Z technician if the air is too cold to be comfortable. If it gets too cold, it can feel a bit like putting your hands in icy water for too long. Just give feedback to your technician so adjustments can be made.
To learn more about how Sub-Z is used by world renowned teacher, speaker and trainer Dr. Amy Lewis, Dermatologist in Manhattan, watch this video:
Reviews
"Brianna did a wonderful facial for me today. I would definitely recommend her and Pura Vida."
- B.D. /
Other /
Sep 29, 2023
"I had an amazing experience! So informative and welcoming!"
- K.J. /
Google /
Sep 28, 2023
"One of the best facials I have ever had. Amazing service!!"
- C.M. /
Google /
Sep 21, 2023
"I got a massage from Stacy and she did a phenomenal job and was very professional. Following shortly from the massage I got a DiamondGlow Facial by Brianna. She did a fantastic job, my skin was glowing after the facial. The room had a great scent and I have to say for the grand finally of the facial adding the lip balm was a very nice touch. Brianna this is a very creative signature touch!!! Ladies great job!!! Thank you."
- M. /
Google /
Sep 21, 2023
"I had a DiamondGlow facial with Brianna yesterday and WOW! She was great! The music, the scents, the entire process was so relaxing and calm. I left with my skin hydrated and glowing! Can't wait to see her again next month!"
- W.L. /
Google /
Sep 20, 2023
Previous
Next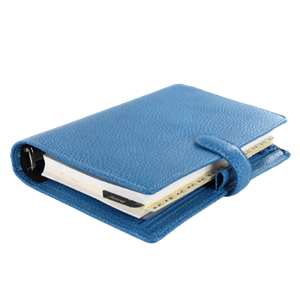 Related Procedures