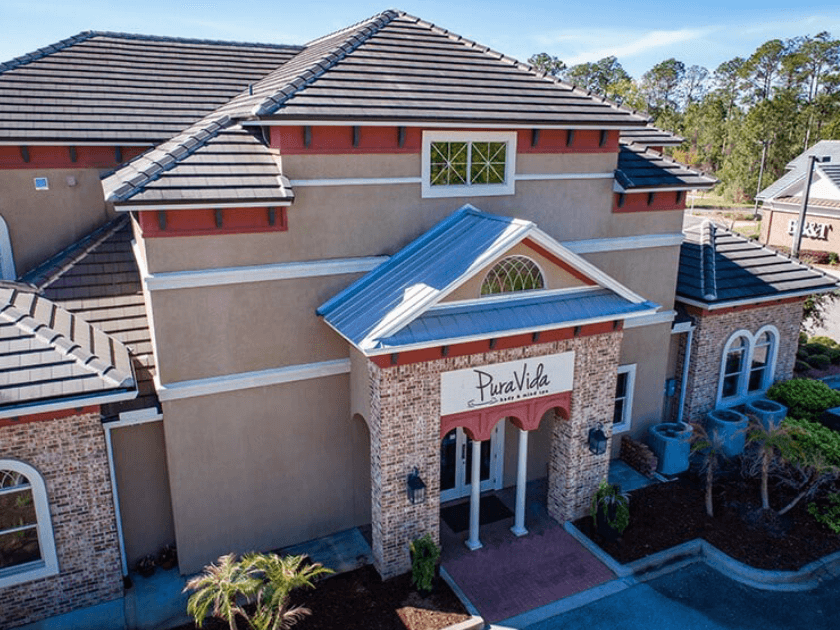 About Pura Vida Body & Mind
Pura Vida Body & Mind Spa was founded by Julie Davis and is overseen by Dr. Neal Verma. Our Spa is the first of its kind, providing both medical aesthetics and Day Spa services in one beautiful place. Located in Fleming Island, Florida, just outside Jacksonville, Pura Vida offers wellness, healing and relaxation through various holistic approaches such as Salt Room Therapy (also known as halotherapy). Our nearly 4,000 square foot beautiful brick building reflects our mission and vision, starting with our peaceful reception area and stretching throughout the rest of our modern office. Our consultation spaces house advanced technology such as the VISIA Complexion Analysis system, which helps us get a comprehensive understanding of your individual skin condition, age, and problem area and tailor a treatment program especially for you! We also perform skin rejuvenating treatments in our state-of-the-art Refine Room using advanced laser systems by Cutera.
In the spa area, we have taken special care to transform it into a true oasis and place of healing. Our coed facility offers a calm and soothing environment, an oversized Tranquility Room with comfy chaises, space for small group gatherings, and over 100 treatments performed in our four Relaxation Rooms. We also offer gourmet snacks, teas and coffees, locker rooms, robes, socks, and slippers. We are best known for our Salt Cave (halotherapy) and zero gravity loungers which provides blissful relaxation while receiving the amazing health benefits of salt therapy. Enjoy our private balcony for lounging and be sure to shop in the Spa Boutique where you will find popular skin care brands, our signature brand of all-natural botanical skin care "Pura Vitale" and many other self care items. We invite you to tour our facility and learn more about the great care and detail that we have put into making your experience here exceptional.
View Features At This Location
Related Posts