The Secret Behind the Botox® Lip Flip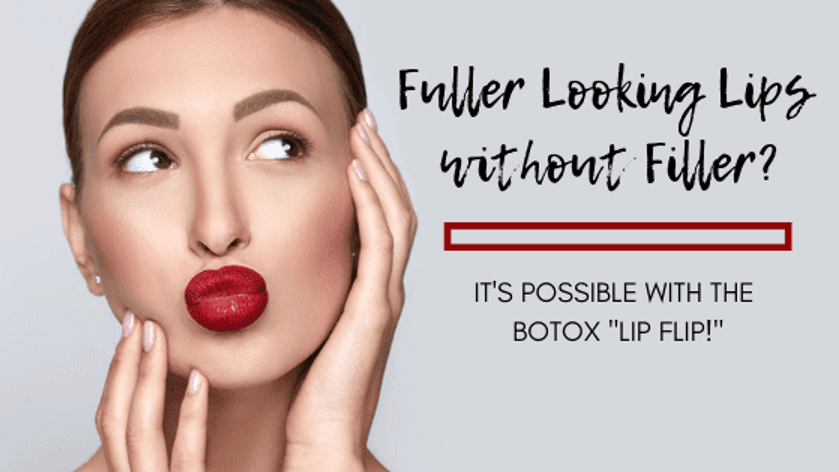 Do you desire a fuller, "poutier" lips? Are you undecided on taking the plunge with dermal filler's and looking for a less permanent treatment to slightly enhance the fullness appearance of your lips? The Botulinum toxin lip flip is an excellent alternative to dermal fillers for patients who desire a subtle lip enhancement.
Botulinum Toxin Lip Flip
Botulinum Toxins (such as Xeomin, Botox & Jeuveau) when injected into the lips provide a subtle fullness or "pout" by relaxing the "Orbicularis Oris" muscle. When the muscle is relaxed it causes the lip to slightly "flip" up creating the overall appearance of a fuller or "poutier" lip.
Difference between Botulinum toxin Lip Flip and Dermal Fillers?
When considering this treatment, please remember that Botulinum toxins and dermal fillers are very different and will not provide the same results. Botulinum toxins for lip flips are used to temporarily weaken the orbicularis oris muscle causing the lip to subtly "flip" upwards which provides the appearance of bigger lips based on the amount of lip showing. The use of dermal fillers to create fuller or "poutier" lips is achieved by adding actual volume to the lips through the injection of a hyaluronic acid causing the lips to become larger.
Ideal Candidates for a Botulinum toxin Lip flip
Those seeking a subtle lip enhancement
Those who's upper lip tends to "disappear" when smiling
Those seeking a less permanent treatment
Those seeking to improve and smooth minor radial lip lines
Those seeking the appearance of fuller lips without adding lip volume
Ideal Candidates for Dermal filler versus a Botulinum toxin Lip flip
Those seeking to improve overall lip symmetry and lip shape
Those seeking to add additional volume to upper and lower lips
Those seeking a lip enhancement that is more permanent (6-12 months)
Those seeking to improve and smooth moderate to severe radial lip lines
How long will it last?
The use of Botulinum toxins is a temporary non-surgical treatment for patients who are desiring a "poutier" lip appearance but not ready to commit to dermal fillers. Depending on the Botulinum toxin injected, patients can expect to start seeing results within 2-10 days after treatment. Patients should expect to repeat injections every 2-3 months for optimal results.